Saving More Than $90,000 in Medical Bills with Hepatitis C Treatment in India
Hepatitis C Treatment in India Cost Me Less Than $1000
After two unsuccessful treatments with old generation drugs, I spent years waiting for new antivirals to be discovered. When finally my insurance refused paying for it, overwhelmed with frustration, I tried every possible way to get the new medications. The last one led me all the way to India! It worked its magic – and guess what else? This hepatitis C treatment in India cost me less than $1000 per 12 weeks. – Alex


We sincerely thank Alex for sharing his story and allowing us to post it on our website.
How It All Started: Hep C Symptoms
I was first diagnosed with chronic hepatitis C ten years ago. By this time I was constantly feeling weak and completely exhausted, so I probably should have known. But I didn't know that these were the symptoms, I was just blaming it on extra working hours and long commute. Who doesn't feel tired anyway?
When the blood work came back showing that I had hepatitis C, it took me by surprise. I couldn't get my head around it; I didn't recall any particular situation where I could be exposed to infected blood. I was never an intravenous drug user and I've never received organ transplants or anything. Basically, I wasn't in any particular risk group.
My physician seemed much less perplexed. He explained to me that for someone born in 60's even a small intervention like childhood injuries with stitches could be a potential cause. Apparently, nearly one out of ten Baby-boomers has hepatitis C.
Chronic hep C is a serious disease that attacks the liver and can severely damage it over time. The possible consequences are fatty liver, cirrhosis and liver cancer. There are over 150 million people worldwide who have hepatitis C, and more than 3 million are diagnosed with it in the United States alone. And about 20% of HCV-positive people may die of liver disease within 20 years.
From Bad to Worse: Fibrosis to Cirrhosis
If that alone didn't sound scary enough, I went through the liver biopsy and it showed that I had cirrhosis. I was never a heavy drinker, consuming maybe a glass of wine every couple of months. Apparently, it was damaging enough, or maybe I just had the disease for a very long time without knowing about it.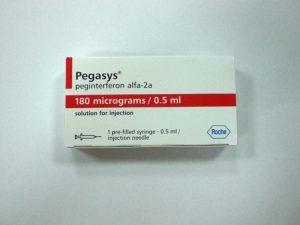 Back in 2005, the standard treatment scheme was a combination therapy of interferon and ribavirin. It wasn't very effective – maybe 40% success case for genotype 1b that I had – but I didn't have a choice. I followed the treatment for three months and even though the virus was still there, the amount of it in the blood decreased a lot and I started feeling better. Continuing with the therapy was out of the question: the side effects were simply horrible and my blood work showed that I couldn't take it any more.
Four years later, my condition worsened and I started the therapy again. There was no viral response this time, so the doctors insisted on going on and on. At the end of the day, nearly one year later, there was still no response to the treatment except for type-1 diabetes that I developed.
I don't know if it was actually the treatment effect or the simple fact that the horrible side effects disappeared, but after stopping interferon shots I was finally able to cope with exhaustion. I was no longer taking alcohol at all, started taking hepatoprotectors and eating as healthy as I could, and by 2010 my enzymes improved a bit.
If before, by lunchtime already I was exhausted beyond belief, now I was finally able to function normally. Still, it was a pretty miserable experience and I was frantically hoping that another treatment would be invented soon.
Sovaldi & Harvoni: Good News but Not for Everyone
When Sovaldi was finally approved, I thought that I finally saw the light at the end of the tunnel. I did another Fibroscan, and it came up as fibrosis level F3. My doctor suggested that since my condition has improved slightly, we could wait few months more for the new antiviral that will suit me better. The thought of another interferon course, even if combined with antivirals, was horrifying, and I agreed.
Finally, Harvoni was approved, and I thought that this time I would finally have the right treatment that will work for me. The drug worked its magic: more than 90% of patients taking it went virus-free within three months, and the side effects were nothing compared to the old treatment. To say that I was excited was an understatement; I was literally exploding from excitement and expectations of wonders.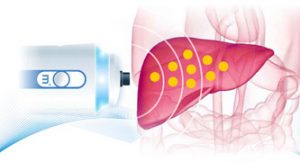 Then, another Fibroscan done in the beginning of 2015 only showed fibrosis level F2. I heard that liver cells are capable of rebuilding themselves, but I was rather skeptical. I was fighting the diabetes as hard as I could, doing lots of sports and jogging every day. I lost almost 30 lbs that year, so it might as well have been general changes in my body. But still, it meant that I was doing better and that was pretty good news, right?
Imagine my shock when the insurance got back to me saying that I don't qualify for Harvoni treatment. My doctor then suggested that I might qualify for Viekira, but my insurance denied coverage again. Apparently, having defeated cirrhosis and surviving long enough for the new treatment to appear wasn't enough; I should have waited, but my liver condition should have remained critical. I felt like a fool.
Scandalous Pricing: Is Big Pharma to Blame?
I don't want to go on rumbling about dishonest and dishonorable pricing strategies of pharmaceutical giants. Everyone knows that they can charge any price and the insurance companies are allowed to do nothing but bend.
I don't want to blame insurance companies either; when you have to cover $90,000-treatment for thousands and millions of patients, you either start rationing it or raise the premiums, or both. But being there, having done that – I'm talking about Child-Pugh compensated cirrhosis now – I hate the thought that this is how you need to feel, this is what you have to become before they treat you.
How is this fair?
And on top of it, there was another problem. Even if I qualified, my high-deductible health plan would only pay for a part of the treatment. Having two failed treatment attempts on my file, I would have needed Harvoni for 24 weeks, and that was easily over $30,000 in out-of-pocket costs. But I didn't worry about it. Before I would have needed this money, I must have waited to develop a more severe liver damage. And this is not something I was planning to do.
Maybe in reality I was still not very far from cirrhosis. After all, I don't know how well the results of biopsy correlate with Fibroscan. But at least I was now able to drag myself out of bed each morning and go through my day. And there was no way in the world that I would allow myself to go back to this horrible stage of liver disease in order to qualify for the treatment.
Hep C Generics from India
So, how else could I get these pills? I started thinking about other solutions.
Buying them was out of the question. Seriously, $1,000 a pill? 24 weeks is 168 pills. Who can afford that?
I looked up generics online, and thought that maybe I had a chance there. There were few countries producing them, but India seemed the most reliable. There, at least, the drugs were not some back-engineered copycat pills, but the meds produced under license agreement with Gilead. The only problem was that they weren't meant to be sold outside of the third world.
Despite that fact – and the fact that shipping the drugs to the U.S. would violate custom regulations – there were dozens of "online pharmacies" that claimed that they could do it. The commonly proposed ones were Hepcinat-LP by Natco, Ledifos by Hetero, LediHep by Zydus Heptiza and MyHep LVIR by Mylan. The price ranged from $500 to $2,000, and you could find the same generic 'brand' at totally different prices.
As if this didn't sound suspicious enough, none of the online dealers took credit cards and none of them asked for prescription.
I checked the listed price in India, ran it through currency converter and became even more alarmed. The retail price in rupees was nearly twice the lowest price asked online. How could it be possible? Were these drugs stolen or counterfeit? It sounded totally crazy, and yet I was hesitating to buy.
The doctor would wave her hands at me at the slightest mention of generics.
'As with any generics, there are the ones that work and the ones that can harm you! We know nothing about what you'll get! You can't take any risk, not you, not with your medical history.'
At my next liver enzyme check, I shared my confusion with a nurse who was taking my blood.
'We have two patients at the moment who are taking generics,' she said confidentially, 'and both bought them by calling some toll-free phone number.'
Finding Treatment: Alternative Ways
That piece of news made me hesitating all over again. I started wondering how I could get in touch with these people and find out more. I probably would have gone back to the nurse begging for their contact info, but this is when something else happened. My sister called me saying that she met a woman in their prenatal class, who underwent the therapy with generics and who is now virus-free. It seemed like the fate finally started smiling to me!
I texted this lady, and three days later we met for lunch.
Amita, 34 years old, was energetic, full of enthusiasm and ready to share her story. Born in New Jersey to American Indian father, she spoke English without the slightest accent and only the pace of her speech and her dark eyes were giving up her origins.
Like me, she had no idea where she got her hep C, but our similarities ended there. She had no symptoms whatsoever and very mild fibrosis, but a striving desire to have children and numerous relatives on the other side of the ocean.
'I could have waited, of course, there was nothing threatening about my condition, but we really wanted a child, my boyfriend and I, and I just couldn't imagine taking the risk with my baby [and giving her the disease]'.
To get her generic treatment Amita didn't have to travel all the way to India. She sent a power of attorney and all her medical records to her cousins and one of them went to the doctor and got the prescription for her. Next time he was coming to visit, he brought the drugs over to her in his hand luggage.
'Strictly speaking, it's a bit borderline. I should have been there myself to see a doctor. But then, it's a family business, so nobody made a big deal about it. And the most important thing is, I had my three packs of Ledifos!'
At the time, it's only been few months since Indian generics appeared on the market, and there was no official studies published yet. Amita hesitated for few weeks, but then her natural curiosity and the desire to get rid of the disease took over, and she started taking the pills. After only month she did a first check and the virus RNA was no longer detected. She continued taking the pills for two months more, did another check, and then another one and another one. The virus never came back. Now, only fifteen months from starting her treatment, she was sitting in front of me, her eyes glowing, caressing her baby bump with a smile.
'There're two things that I think you can try. You can send your medical data to India and I'll ask my cousin to get a prescription and buy the drug for you,' Amita proposed. 'What I don't know is how we're going to send it here. None of my family is planning on coming any time soon.'
'Or you can just go to India. Don't go alone though, you will just waste plenty of time and money. India is a total mess when you're not Indian. There are medical tourism companies though whose job is to take care of you.'
I asked her what she thought about ordering the drugs online.
'Whether it's a scam or not, I don't know. I know one thing for sure though: you shouldn't get prescription drugs without prescription. Not because of the customs checks, even though that's a good point, too. It's just that the reputable pharmacies wouldn't risk selling it this way. It might cost them their license. Only the shady places do that, and those are where you have the highest chance of buying counterfeited drugs.'
Taking my chances with India
I decided to give it a try. I sent all my papers to Amita and a week later I received a scanned prescription by email. That's when the things got complicated. Amita's cousin checked with DHL and they refused shipping the medications to the private address in the U.S. Apparently, a medical package could only be sent to a clinic or doctor. Desperate, I asked to ship to a family friend who had a dental practice, but that didn't work for customs declaration either.
Luckily, we didn't buy the medication yet, so it only cost me $70 for the medical appointment in India – plus a thank-you gift basket for Amita. The girl took this failure personally, but I wasn't even disappointed. Somehow, I would have been more surprised if it worked. I just wondered how the "online pharmacies" managed to get over this barrier. Were they filling false customs declarations or were they not shipping from India? Could it be possible that entire containers of drugs have already crossed the ocean?
After that, I didn't have another choice but to go to India myself. Keeping Amita's advice in mind, I didn't want to go on my own. Another quick search on the Internet and I ended up on www.cure-hepc.com.
I filled in a contact form on the site explaining what I wanted and 6 hours later got a polite reply and a quote in my mailbox. If I didn't know that these services existed, I wouldn't have believed it. A trip to India and antiviral drugs supply for 6 months of treatment for roughly $4,000? Only three days to solve the problem? It simply sounded too good to be true.
We spoke on the phone. A polite girl speaking perfect English with a touch of Italian accent replied all my questions. Yes, I could travel any time, but it's nice if I could give a ten days notice. No, they don't do any shipment. No, I can't bring my own prescription, I'd have to see a hepatologist in India and do a Fibroscan. Yes, if I don't have recent medical data I can do all the exams out there, but then I'll have to stay for one week. No, the quote includes the medication price, but I don't have to pay this part, I will pay it to the pharmacy when I buy the drug.
What surprised me the most is that they didn't want ask for a full prepayment, and if I'd book my tickets myself, there was hardly any prepayment at all. If all this was scam, I simply couldn't see how it worked.
Going to India for Hep C Treatment
Anyway, it didn't seem like I had any other options left. So I took three days off work, starting from next Wednesday, made a wire transfer and crossed my fingers. The very next morning I received a booking confirmation and flight details. I was going to India. It was official!
Taking a plane was just like any other flight, just longer. I spent most of the trip asleep. It was on the arrival to Hyderabad airport when I started to get really worried. What if nobody came to pick me up? What if it was just some sort of stupid joke?
But it wasn't. In the arrivals hall an Indian in his thirties – business attire, a white shirt and a tie, all that – was holding a carton with my name on it. A car with a driver was waiting for us outside.
It was only 3 p.m., nowhere near the rush hour, but the traffic was shocking. I always thought that New York was terrible, but Indian driving beats all the records. The amount of honking, overtaking and all sorts of crazy maneuvers that I witnessed was simply wow!
On the bright side, the hotel exceeded all my expectations. I somehow thought that in the developing countries four stars wouldn't match the same standards, but that really wasn't the case.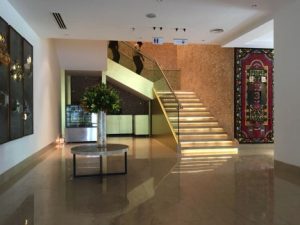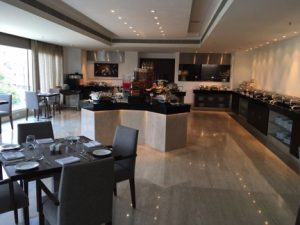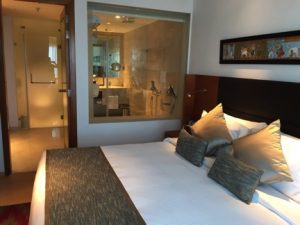 My guide, Shayan, gave me a smartphone with a local plan, so that I could contact him easily, and left me to enjoy myself for the rest of the day. I took a short walk around the neighborhood and had a dinner in the restaurant that he recommended. The waiter only smiled when I asked for "spicy" and proposed a chef's choice. They must have been used to tourists, because it wasn't nearly as spicy as I imagined, and otherwise very appropriate for non-Indian taste buds. The service was excellent.
Next morning, Shayan took me over to the hospital. Again, another pleasant surprise, the hospital looked very professional. If not for the Indians all around, I could have imagined myself in one of the top-notch facilities in the U.S.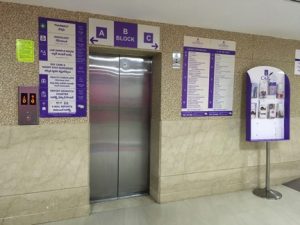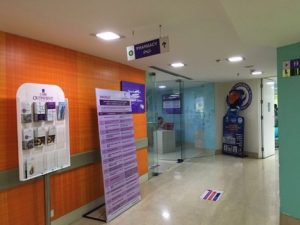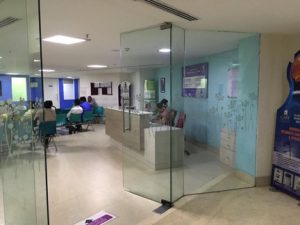 The doctor was talking to me for a while, then looked through my reports and did another Fibroscan – something that wasn't needed for every case, but he explained that he preferred doing it in mine. He then gave me a prescription for 24 weeks of sofosbuvir-ledipasvir, same compound as Harvoni brand. I asked, just out of curiosity, if the generic copy of sofosbuvir-velpatasvir (the new Epclusa) would have been better. He explained that in many cases it would, but with my genotype sofosbuvir- ledipasvir was just as good as the newest drug.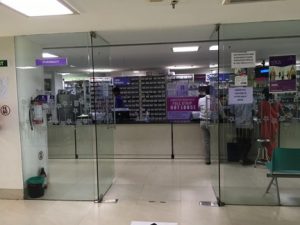 Shayan accompanied me to the pharmacy, on the top floor of the same building. By lunchtime I was done. I stepped out of the hospital doors carrying a shopping bag with the pharmacy logo on it. Inside were six packs of the medication, each of which cost around $30,000 in the U.S.
In the afternoon, Shayan took me on a short city tour and then for a farewell dinner in the restaurant. He dropped me off at the airport around midnight.
Early Saturday morning I have already landed in JFK. The customs asked no questions whatsoever. Just in case, I had my prescription and all other documents ready: pharmacy receipt and certificate of authenticity with batch number. I didn't need any of it.
Lessons Learned
Overall, I have very mixed feelings about this trip. The organization was great, smooth to perfection. No doubts that I couldn't have done it myself, not in such a short time. Should I have done it on my own, it would have probably cost me more as well.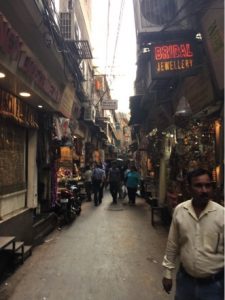 The impressions of India are very controversial. It's not at all how I imagined it: a colorful blend of curry and Bollywood movies. It's shocking how ancient is mixed with modern, poverty with near-royalty wealth, primitivism with the latest technology.
Was it worth seeing it? For sure! I actually regret not being able to stay a few days longer. Anyway, even if my mission was accomplished and I got the medication I needed, I probably should have used this opportunity to discover the country more. If you, as well, choose to go to India to buy your treatment and you can take few more days from work, don't hesitate, do it.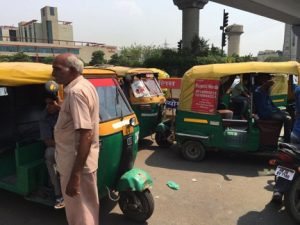 Other pieces of advice? Stick to English or continental breakfast in the hotel. I did some experimenting with local food and, trust me, spicy rice at 8 a.m. can upset even a healthy stomach and a healthy liver.
And don't be afraid to take chances. I am incredibly happy and proud that I have gone on this adventure. It feels very good to know that you're the one in control of your own health and your life choices. Not your insurance company, not the pharmaceutical giants with their crazy prices. And knowing that your choice doesn't help the latest to get even richer feels very good, too. (Yes, I know that they receive some royalties from the sales of generic, but that's nothing compared to what you pay them in the U.S.)
[Update 19/12/2016] By now, I have gone through 4 weeks of the treatment and have done my first blood test, too. My liver enzymes are back to normal range for the first time ever!! The virus is still there, but the viral load dropped from millions to less than a thousand copies. With severe liver damage and few failed treatments, I don't know if I can get rid of the disease for good, but I don't know that with branded medications, either. My doctor says that it's too early to tell, but it's definitely working, even though I'm not a fast responder. So, generics DO work. And you can try to get treated without getting a second mortgage.