Medical tourism is defined as traveling to another country for the purpose of obtaining medical treatment.
Traditionally, people would travel from less-developed communities where certain medical treatment isn't available to major medical centers in highly developed countries. In some cases people are seeking the procedures that are illegal in their home countries, owing to their experimental status or to ethical objections to them.
Even if this traditional pattern still continues, the recent trend is somewhat the opposite; more and more people from developed countries are traveling to the countries of the third-world, where medical care comes at much lower cost. According to CDC, up to 750,000 US residents travel abroad for medical care each year.
India's Medical Tourism Boom
Medical tourism always played an important role in India's economy. For a while it's been an Asian medical hub that attracted medical tourists from war-torn neighboring countries with poor health infrastructure. Today, more and more Americans and Europeans are coming, seeking quality treatment from accredited facilities combined with cost-effectiveness that's lacking at home.
Treatment costs in India start at around one-tenth of the price of comparable treatment in the United States or the United Kingdom, says Chicago Tribune.
No wonder that the U.S. and the U.K. have been traditionally the largest source countries for medical tourism to India.
India: The Pharmacy of the Third World
For the last twenty years India has been the pharmacy of the third world's countries, with its pharmaceutical industry ranking the 3rd in terms of volume and the 14th in terms of value. What many don't know though, is that the main importers of Indian medicines are not some poor countries lacking facilities for their own pharmaceutical production.
In 2014 alone, India exported $11.7 billion worth of pharmaceuticals. The United States imported a striking third of it, an impressive number of $3.8 billion. And given how inexpensive Indian medicines are, $3.8 billion worth of drugs is a lot of drugs!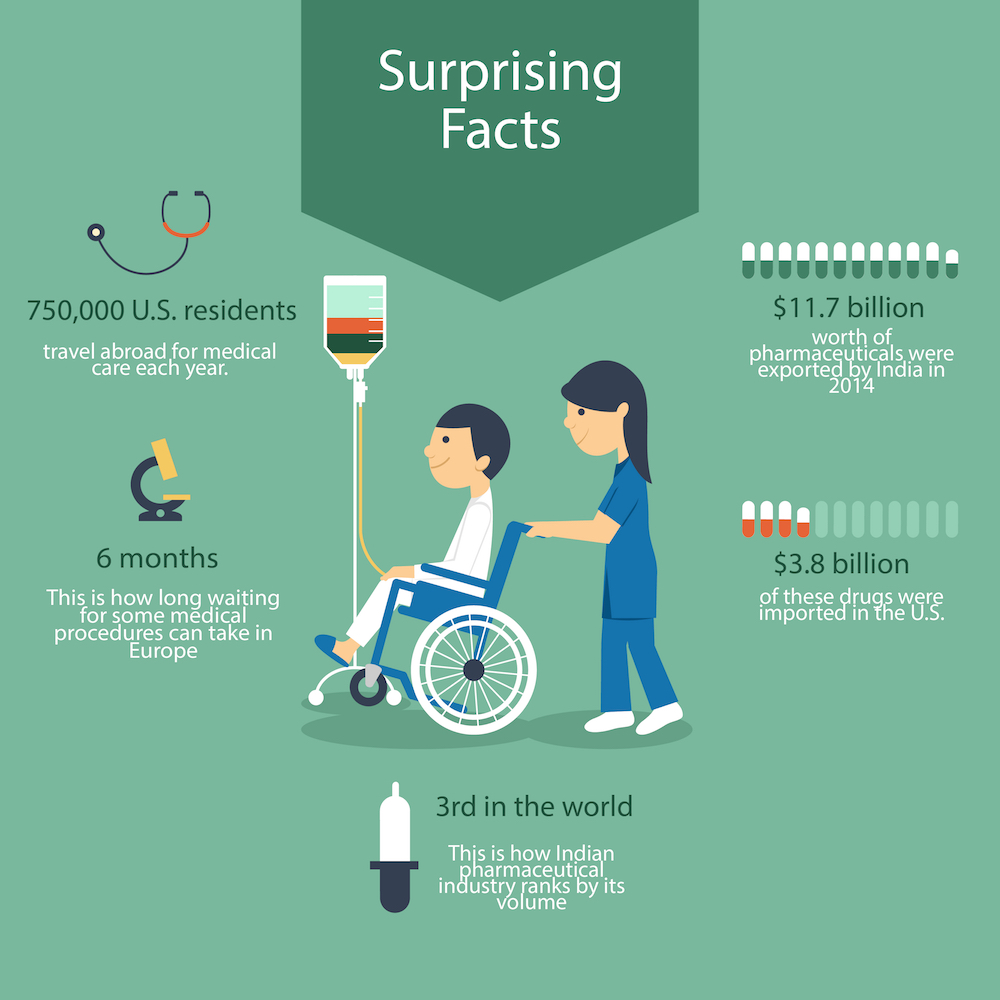 India's Patent System: A Reason for Thriving Pharmaceutical Industry
India's patent system is quite controversial, and particularly in what concerns pharmaceutical industry. Until 2005, there were no composition patents when it comes to food and drugs; only "process patents" existed according to India's Patents Act. And even for these process patents the patent period was shortened to between five and seven years.
All this basically meant that pharmaceutical companies could legally recreate another company's product by simply making changes to production process. Process patent system was the reason why Indian pharmaceutical industry thrived and became one of the world's largest.
This strange patent protection – or basically, a lack of it – made the Indian market undesirable for multinationals. And while the latter streamed out, Indian companies prospered, polishing their expertise in reverse-engineering new processes for manufacturing high-quality low-cost drugs.
Why India?
Language
India has a broad variety of culture and traditions, but one thing that brings Indian people together is the English language. And when it comes to patients and healthcare personnel, speaking the same language undoubtedly helps to establish good communication and to create a warmer atmosphere.
Facilities and technologies
Healthcare in India is not only cheap, but is surprisingly well regulated. Twenty-two Indian hospitals are JCI (Joint Commission International) accredited, meaning that their infrastructure and healthcare level matches the best international standards. Many facilities possess the latest technologies, for instance, in robotic and radiation surgeries or in transplant support systems.
No waiting time
Waiting for a surgery, or even a simple IMR appointment can take three, or sometimes even six month in Europe. It certainly sounds ridiculous, but it's not uncommon.
India is a nice compromise between the U.S., where medical procedures are practically immediate, but extremely expensive, and Europe, where they are quite cheap, but with enormous waiting lists.
Doctors
Not only the hospitals in India have world-class facilities, but Indian doctors and nurses are often trained according to international standards, too. Fluent spoken English and being a part of the Commonwealth allows doctors completing their studies or carrying out their PhD research in the best universities of Canada and the U.K.
Hepatitis C Treatment in India
Thanks to the voluntarily license agreements, India now produces a number of licensed high-quality hepatitis treatment regimens – and at a price that doesn't bite, too! Even though it is primarily meant for hep C sufferers in India and poor neighboring countries, some patients in middle- and high-income countries, where the treatment is too rare or too expensive, might also benefit from this affordable hepatitis C cure.
Many ask if we are actually depriving the third-world patients of their treatment when we buy a cheap treatment in India. The question is completely legitimate, but it shouldn't be a concern.
First of all, there is no quota and no waiting lists for the drugs produced in India. If anything, medical tourism is actually helping Indian economy – and particularly Indian hospitals and pharmaceutical industry. It is with the money that international customers pay for the consultation that the hospitals can use to buy their medical equipment, like fancy blood test devices or, say, FibroScan machine.
In Cure Hep C, we go one step further. When it comes to CSR, our motto is "a hand from India, a hand to India". Every time when ten customers traveled to India, we pay a full hepatitis C treatment course to an Indian who needs it the most, but isn't able to afford it. So rest assured, buying hepatitis C treatment in India is as ethical as it can get.